Click here to visit Adult Matchmaker's Aussie website
The first thing you should remember when creating your profile is that you should express yourself – and only yourself. In your quest for love you should never lie about yourself – whether it's about your appearance or your career. Your goal should be to meet someone that strikes your interest and who likes you for who you are. Don't be afraid to express "The Real You". Otherwise, you may end upwith someone that is expecting the "other" you, the identity you made up – and this could be disastrous.
You should try to let your unique personality show thru. Don't tell your personality through your profile. For example, instead of telling "I'm a funny guy", you could show that you are funny by saying, "Sometimes people ask me if I was funny as a kid". I say 'Well, no. I was an accountant.' ". Or, if you have a well-paying job, instead of directly writing "I earn a lot." in your profile, you can write "I can provide you with all the comforts that you need."
But whatever aspects of your personality you want to convey, the main idea is to make yourself stand out from the rest. Use your unusual talents and quirks to your advantage. It's best to include your age in your ad profile. If you're a bit embarrassed about giving a specific figure, just type the range such as "early forties" or "late twenties". Of course you should also give an age range for the person you seek – especially if you are looking for someone outside of your age group.
After fully describing your personality, you should then describe the type of person you are looking for. (This is much easier than describing yourself.) Don't forget to add a profile picture as well, since this tends to increase the number of responses you get. People usually like to attatch faces to the people they meet online, as it makes them feel more comfortable to pursue a connection. As a safety precaution, make sure that you do not include personal information in your profile. This includes phone numbers, private email addresses, office addresses, etc. Make sure that your profile picture also doesn't reveal this type of information indirectly (this includes photos of building names, street signs etc.)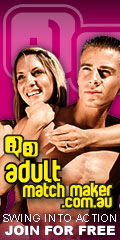 While there are some nice, trustworthy people who genuinely want to make a love connection, there are also those who may try to take advantage of you. After creating your profile, it's a good idea to search the dating website's member database. Some dating websites even allow you to pre-select from a list of criteria, and you will be notified via email of any new members with characteristics matching your selection. You can always contact anyone who sparks your interest. Usually, initial contact is 'anonymous' – this means that your email address and other personal information are kept confidential until you personally give this information to your potential date.
After exchanging email addresses or phone numbers, you may decide to move on to face-to-face contact. At this point, the online dating service is no longer involved. While you may get one or two potential dates through a free online dating service, your success rate will be much higher with a paid service. This is because paid memberships are prioritized by online dating services, and they usually post your profile at the top of search results.
You also gain more access to special features, allowing you to broaden your horizons and meet more people. Online dating services have reasonable monthly fees that give you more value than what you're paying for. Ultimately, the decision is up to you. Just make sure that you sign up for free trial memberships on several websites first before paying for any service. Looking for the perfect online matchmaking service can be a daunting task, but don't worry – you'll find it well worth it in the end!


Visit Adult Match Maker
If your an Aussie living down here in Australia, click on the link located below this video to visit one of Australia's largest and most popular adult dating websites… and thanks for watching.
More Related Dating Articles From This Website....

It's now a well documented fact that over the last three years, online dating has become arguably the most popular activity on the net. This being the case, how do you stand out from the crowd when you first sign-up to your chosen site? Remember, popular dating sites attract hundreds, and in many cases, thousands of ....
Adult Matchmaker Australia dating online sites are formed based on a simple concept - to create a site for adults. Adult Matchmaker Australia dating online service is available for those who are looking for intimate encounters. These online services enable people to meet others with similar interests and needs like a friend, lover, sex partner, intimate encounter, one night stand,....
Tired of being taken for granted? Sick of being taken for a ride? Well, the fault could begin in the way you interact with people. It could well be possible that you start any interaction appearing to be meek, over-polite and faint-hearted; giving the impression to others that this guy can easily be trod upon. Its....
Making your profile on an internet dating website can be a little bit daunting because you want your profile to stick out and garner as much attention as possible. At least that is what you think you need so you become tempted to include activities like skydiving, even though you have never done it, to make ....
Online dating can give you a fresh approach to finding love. Why leave it to chance when you can take control of your own destiny and find love for yourself?Dating can be overwhelming with so many potential dating partners out there; it can be difficult to know where to start. As a registered member of Adult Matchmaker you....
Everybody knows about online dating sites, they help people get together. But most of the people using them don't know how to really use them. What I mean by this, is how to get the dates and how to find the ones with the best guys and girls. When you find the right sites everyone will come to you. Get....
Click Here To Visit Adult Match Maker Australia Dating Tips for Guys Below you will find a list of dating tips for guys to point you in the right direction. The following points are based on Adult Match Maker's perception, research and years of experience from operating this popular and successful website. # 1) Everyone wants to go after the hot women, so please....
online dating offers great benefits to both men and women. For men, they avoid the embarrassment of being openly rejected by women. For women they avoid men who might make unwanted advances especially when they are drunk. Dating online makes it safe for both men and women. And the online dating system helps choose prospective dates....
Click Here To Visit Adult Matchmaker Video Transcript... Dating For Sex - to have or not to have? - is the question that looms large on many people's mind. For some people sex dating is a complete "no no" while for some others it is considered quite acceptable. Sites such as Adult Match Maker are for those who are interested in the....
Click Here To Visit Adult Matchmaker Australia Video Transcript... Dating Tips for Women By Adult Matchmaker Number 1) Be creative when choosing a user name.It's important that your user name stands out from the rest. Number 2) The idea of your profile and title tag is to capture male attention. Be flirtatious, create fun kinky content, and show off your sense of humour. Number 3) It's a scientifically....
Author: Ingrid Margaret Make a clear assessment of the experiences you would not like to go through. For instance, you would hate to be lied to while your partner had a clandestine fling. When you set clear boundaries, you are coming clean about what you are as a person and are likely to attract people who think like you....
Click Here To Visit Adult Matchmaker's Website Online dating is one of the best options when searching for a new relationship. Now-a-days a lot of people are joining online dating sites, like "Adult Matchmaker" in Australia. The reason being, they need a perfect mate to share their feelings with. Broken relationships, strained relationships, the stress and strain associated with today's....
Trackback URL for this post:
http://www.datingtips.net.au/adult-matchmaker-creating-a-successful-profile/175/trackback/
Posted by Jaron in Dating Tips at 2:56 PM UTC