Do you find it easy to make conversation with new people you've just met? Or does the thought of trying to make conversation with someone new make you break out in a cold sweat?
If you don't feel comfortable making casual conversation with new people you have just met, you will find it harder to make new friends. You will also find it more difficult to fit in at your work place.
One of the most common reasons that people have difficulty making conversation with someone they don't know very well is because they put too much pressure on themselves.
Many people think that whenever they meet someone new, they have to say something really interesting and brilliant, right from the beginning. Even before they know the other person very well. They think they have to really put up a great performance to impress the other person.
They don't just let themselves just be ordinary, and talk about fairly ordinary things.
Here's a very important lesson to learn about making conversation with people: Insisting to yourself that you have to be brilliant and dazzling in all your conversations will not win you new friends. It will not even improve your conversational performance.
When you think to yourself that you have to perform perfectly in all your conversations, you will actually make your performance worse! You will become too nervous and awkward, and you'll be too focused on your own performance. You won't be focused on getting to know the new person you've just met.
New people that you meet are not looking for brilliant conversation. What they are looking for is someone who will be comfortable to be with, and fun to talk to. But most of all they are looking for someone who seems interested in them!
For conversational success, it's more important to be a good listener than to be a great talker.
When you are just starting out talking to a person, you can use your immediate surroundings or the weather as a basis for a few starting remarks.
If you want to know that person better, move on quickly to a slightly more personal level of discussion. Ask a few basic questions and offer a little bit of information about yourself, your likes or dislikes, or your opinion on some neutral topic. Notice whether the other person lights up with interest about any topics you mention.
This can give you new interesting areas for both of you to discuss.
Even if it seems somewhat difficult and awkward for you in the beginning, develop the habit of introducing yourself to others as soon as you meet them, or very early in the conversation. Otherwise you could spend hours talking and neither of you will have any idea of what your conversation partner's name is.
Socially confident people introduce themselves to their conversation partners very early in the course of conversation. People who are shy or socially awkward tend to introduce themselves much later, or not at all. Shy people often wait until someone asks for their name, but they rarely volunteer to give it, and they rarely ask the other person what their name is.
Sometimes it is easier to ask the other person for their name first, and then offer your own. If you practice the new behavior enough times, it will eventually become second nature to you. With enough practice, it will no longer seem intimidating to take a more active role.
The important thing is simply to develop the habit of starting simple little conversations with lots more people. Look for the interests you have in common.
If you want to be more socially successful, take the initiative to introduce yourself to new people and to get the conversational ball rolling. Don't hold back and let other people make all the first moves. If you have been holding back, waiting for other people to do all the work in the relationship, you are shirking your responsibility in making the relationship move forward.
Show interest in other people. Smile. Listen. Look at the person you're talking with.
Whenever you start talking to new people, don't strive for great dialogue, or the perfect opening lines. Just get started, and keep on talking. Practice making conversations with a lot of new people. You will eventually get better at it.
Don't decide that you're a failure if the encounter doesn't turn into a great friendship. After all, the truth is that the majority of conversations between new people don't really go anywhere. That's all right. It takes time and effort to turn casual strangers into friends.
Remember, that all of the friends you already have were strangers to you at one point in your life. Until you started talking and found out what you have in common.
Learning how to make conversation with people you don't know well can be the first step in making many new friends.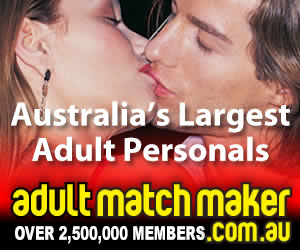 Adult Matchmaker Australia
About The Author
This article was written by conversation expert Royane Real. Do you want more tips on how to improve your conversation skills to make new friends? Download the special report "Your Guide to Making Friendly Conversation" at http://www.lulu.com/real.
Technorati Tags: AdultMatchMaker, adultmatchmaker, AdultMatchmaker, dating
More Related Dating Articles From This Website...

Alpha men realize the importance of "net working", especially when you want to go places in life. That is the reason the Alpha man has innumerable contacts and has a circle of well placed friends and associates. He takes care to maintain a very "social" lifestyle. In your search for Ms. Perfect, don't abandon the rest...
If a person has an experience that is physically, mentally or emotionally traumatic, the mind deals with the situation in one of several different ways. Some people abuse alcohol, food, drugs or other substances to numb the feelings they have inside. Others mourn for a short period of time, restore their faith, balance and sanity, and...
First of all know that dating anxiety is a common thing. Both men and women tend to suffer from this condition, especially if it is during the first date, or worse during a blind date! Not knowing what to expect creates an environment of uncertainty. This is the time when individuals bask in self-doubt. They allow...
Okay, so you've finally managed to ask that amazing person out (through e-mail of course) that you've met thru online dating but are you ready for a possibly real relationship in the real world? Well, for starters, don't even think that just because online dating services have somewhat made the whole dating scene a "little less...
It's now a well documented fact that over the last three years, online dating has become arguably the most popular activity on the net. This being the case, how do you stand out from the crowd when you first sign-up to your chosen site? Remember, popular dating sites attract hundreds, and in many cases, thousands of ...
1. Start by losing the losers As hard as it might be if you're single and you don't want to be "alone," if you want to find your soul mate you must be available and not involved with people that aren't right for you. 2. OK, available now? Next... are you "ready?" Any unfinished business that...
Trackback URL for this post:
http://www.datingtips.net.au/adultmatchmaker/turning-strangers-into-friends-adultmatchmaker/35/trackback/
Posted by Jaron in AdultMatchMaker