Alpha men realize the importance of "net working", especially when you want to go places in life. That is the reason the Alpha man has innumerable contacts and has a circle of well placed friends and associates. He takes care to maintain a very "social" lifestyle. In your search for Ms. Perfect, don't abandon the rest of the world. This throws you off balance, and may prove to be unproductive in the long run.
There is a saying; don't forget the old in the glory of the new. Don't give up on your old ties, your long friendships just because you are dating a woman who you find extremely fascinating. Very often men ignore their men friends for the sake of over-focusing on a particular woman. That's not advisable. Here are a few reasons why you need to keep your "old friends network" alive: 1) For a more balanced approach in life. You will feel more active and rejuvenated with old ties. So will your sense of self-esteem take a leap.
2) To keep away from getting over-obsessed with one woman, some distractions and digressions are healthy for your psyche. It's all about balance.
3) This will keep your woman interested in you for a longer time. Women love to see their men having a life of their own and their own circle of friends (male bonding).
4) You will be able to keep your doors and windows open. Meet other women through parties, get-togethers, etc.
5) It's your true friends who see you in the right perspective. Their views and opinions are extremely beneficial for keeping you on the right track.
6) When going through a bad patch, you need the support and friendship of trusted friends.
7) Get an opportunity to live long and happy. Studies show that people with a healthy circle of friends live long than those with few friends. The moral of this short lesson is that when you start loving someone, don't stop loving the rest of the world. We have all met people, who, once they are into a relationship, abandon all his old friends. He is not to be "seen". Then when he is saturated with this new found love, he bounces back, looking for those same old friends to spend time. And wonders, "where has my entire friends gone, long time passing!" Always remember this, you did not choose your family, you chose your friends. Family is always there, whereas friends are not. Family accepts you because there is no other way – friends accept you because they wish to. There lies the difference.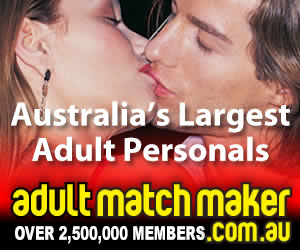 Adult Matchmaker Australia
Joshua Goh is dating & relationship expert. For more information on up-to-date dating reviews and practical online dating tips & tricks, please visit Cupidwave.com
Article Source: www.ArticlesBase.com

Technorati Tags: AdultMatchMaker, adultmatchmaker, AdultMatchmaker, dating, friendships, dating advice
More Related Dating Articles From This Website...

You enjoy math, chemistry, and you thrash out algorithms to solve practical problems. You are smart; actually, you're a geek! But being a geek shouldn't stop you from actively dating. It would be possible that spending too much time studying, reading, solving problems, and pursuing other "egghead" activities might leave you a little light on social...
Okay. I'll take a look, but I'm not saying that I'm going to participate in online dating just yet. I've heard the success stories and the horror stories about online dating, but I do not have any first hand experience to share with you on the topic. What I plan to do in this article is take...
Have a date this Saturday? Better check if Fate is on your side, with a quick look at your online dating horoscope. There are different kinds of horoscopes. The Western Zodiac (Aries, Taurus, Gemini, etc.) is based on your birthday. The Chinese Zodiac (Snake, Dragon, Horse, etc.) is based on your birth year. There is also...
Online dating is one of the easiest ways to meet people. Simply join an online dating site, create an account, and you're good to go. But there are just a few tips that will make this naturally fun ride a little less bumpy. Here we go! • Create a separate email, and choose an address that does...
"Scratch an adult, and you'll find a scared child underneath." Who said this? I did. Ok, it's not a very famous quote. But, I do say it, over and over. And people shake their heads yes, acknowledging that they know what I mean. "Under stress, we regress." The man who trained me many years ago said this. ...
Online dating seems to have been around as long as the Internet itself. I have been on the Internet for some years now and don't remember there being an Internet without online dating services. Some were very primitive with newer ones making more and more innovations as they came along. In the beginning most were enter...
Trackback URL for this post:
http://www.datingtips.net.au/adultmatchmaker/the-elite-socializing-style-for-modern-male-dating-advice-for-men/29/trackback/
Posted by Jaron in AdultMatchMaker